ORDER BY 10AM FOR SAME DAY DISPATCH
01341422870
Mon to Thurs 10am - 5 pm, Fri to Sat 10am - 6pm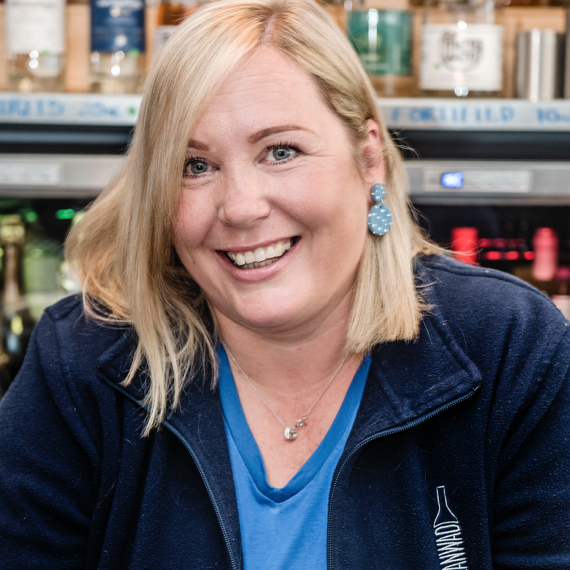 Llinos on Emma
First, she was mistaken as our daughter in the 90s and now customers just think that Dylan has picked up a glamourous young dolly bird! Emma has been with us for ages and is a dear friend as well as a stalwart in the business.
If anyone's going to make you laugh in the shop it's Em with her cheeky chat and naughty smile. She's deadly serious about wine though and is full of information and facts as well as being a really creative member of the team – watch out for her Instagram quizzes and beautiful wine photographs.
Emma is very 'hands on' and has even been to harvest at Montgomery vineyard in Wales – the best way to learn she says. Buy a bottle and she'll quickly tell you it's the best vintage because she picked the grapes. She has her eye on White Castle Vineyard in Abergavenny next – watch out Robb & Nicola!
The European staff wine trips are a highlight – her enthusiasm about the visit to Louis de Grenelle in France was palpable – nothing to do with the charming young host of course! She does absolutely love the Loire though, 'Hurray for Vouvray' is her distinctive call.  Ask her to tell you about their antics in Austria – I really don't know how Dylan manages to keep up with them. They even had him drinking cocktails.
A genuine lover of people, Emma is very good at getting to know what you like and guiding you to pastures new on your wine journey. She's also a fan of a good fizz and full-bodied whites such as Viognier or a quality oaked Chardonnay. I just love the way she entices me to have a quick snifter at the end of a hard day 'Champagne Llin?'  You bet!
Llinos Rowlands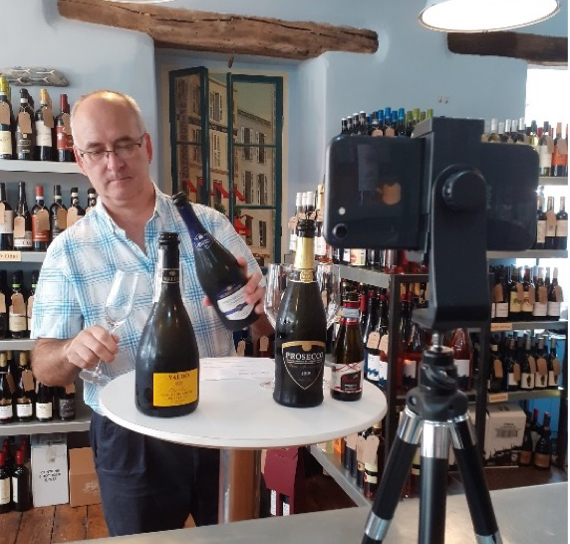 Emma on Dylan
Dylan, I have had the pleasure of working for Dylan for the past 28 years! In fact, he is more than my boss.  He is my friend and my second husband with "wine benefits".
How would I describe Dyl? honest, humble and hungry to always learn more and teach others about wine. He definitely knows his stuff!! His extensive knowledge and passion for wine is highly contagious.
Dylan loves to travel as well as taste wine. He imports from small family producers, to which Terri and I have been fortunate to accompany him on some trips and meet the face behind the bottle, helping us to share the enthusiasm for the wines. Having that personal relationship with the producers makes it so much more unique.
If I was to describe Dylan as a bottle of wine, I think Chateau Musar would be a good choice, unique, richly textured and something exotic and surprising about him…..oh and obviously mature 🙂  May I suggest when you have the opportunity to spend time talking and listening to Dylan. Savour his experiences and knowledge it will leave a lasting impression.
Emma Williams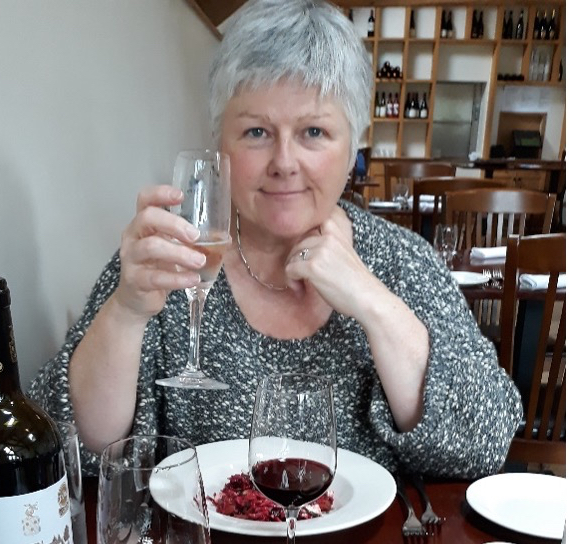 Terri on Llinos
This is Llinos – the boss! (Don't tell Dylan). She rules the roost here in Dylanwad. Often caught up in mischief from overordering luxury foods and finding another gem for us to sell here.
Llinos is a great lover of Champagne, we don't fob her off with the cheap stuff so don't be surprised if you come and find her with a glass in hand. If you're in need of a hamper, best ask her. She can show us a million times how to wrap up a gift but it's never as effortless as she shows.
Llinos is a lover of travel and has been to many interesting places – just don't ask her to get on a plane! Always enthusiastic to learn and to share her knowledge on wine, she's often the instigator of our much-loved training sessions in which wine is compulsory. Her contagious laugh can be heard throughout the shop, so if you need any assistance on what gin to buy or what bubbles to go for you know who to ask!
Terri Jones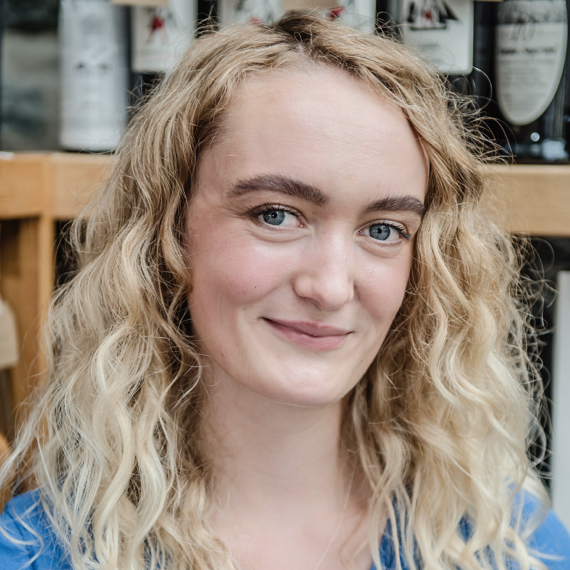 Dylan on Terri
She looks so young but is already into her first decade with us. But don't be fooled by her youthful good looks, she is a font of knowledge that she has so readily absorbed over the years. And she is no pussy cat – we don't call her 'Terri the Tiger' for nothing when she's working on the accounts!
A delight to have on our foreign forays, she has enthusiastically tasted all the wines and even accepted her punishment of trying new foods from squid in Ribera to Bratwurst in Bratislava.
Her taste may verge on floral and a touch of sweetness but she knows a good red when tasting, although so far, she has been challenged by my enthusiasm for fortified wines from Port and sherry to Madeira – I promise that will come with age Tez!

Find us!
Find your way to Dolgellau's lovely old square, look up at Mynydd Moel and we are just off the left of it – opposite the town bakery. Oh, and we still have a butcher in our town too in the steady hands of Richard, proudly continuing the family business.