FREE LOCAL DELIVERY OVER £50
01341422870
Mon to Thurs 10am - 5 pm, Fri to Sat 10am - 6pm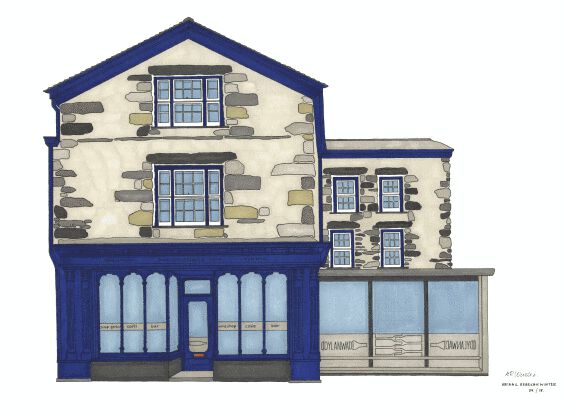 Where are we?
Flanked by four mountains: Cader Idris, Arran Fawddwy, Rhobell and Diffwys before the valley opens up to the beautiful Mawddach estuary, the stone town of Dolgellau is situated at the southern tip of Eryri National Park. Steeped in the Welsh language and culture, we couldn't possibly live anywhere else and have run a business here since 1988.
This lovely illustration is by a local young woman called Abi Winter – check out her drawings on Instagram on Gwaith_gaeaf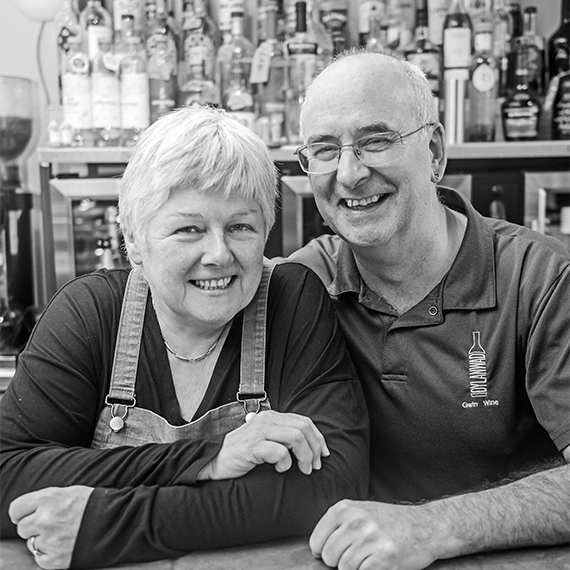 Who are we?
Dylan – Chief Wine Buyer!
If I had a penny for every time someone says they don't expect to find a wine shop like this here…. Well, if you were thinking of starting a wine business you probably wouldn't think of starting it in Dolgellau but we are rooted here and deeply attached to the people, the place and the produce. Many of our trips abroad to search for new wines take us to similar small farming communities. Like Llinos's family: they are farmers essentially, who happen to grow wonderful grapes instead of wonderful lamb and beef!
Llinos – Chief Wine Sampler
My mother was a good cook and her love of food and wine is filtering through the generations. My brother John produces Welsh lamb in Llwyngwril on slopes that run right down to the sea, where our parents and both sets of grandparents also farmed. My youngest brother Tom enjoys photographing the landscape, people and wildlife of the area – have a look at his cards (and photographs of the Welsh community in Patagonia during his Argentinian life!) Both brothers are avid fishermen too and one of the post-Covid activities I'm really looking forward to is a promised fish barbeque by the sea with a good bottle of our Muscadet.
CONTACT US

Find us!
Find your way to Dolgellau's lovely old square, look up at Mynydd Moel and we are just off the left of it – opposite the town bakery. Oh, and we still have a butcher in our town too in the steady hands of Richard, proudly continuing the family business.