FREE LOCAL DELIVERY OVER £50
01341422870
Mon to Thurs 10am - 5 pm, Fri to Sat 10am - 6pm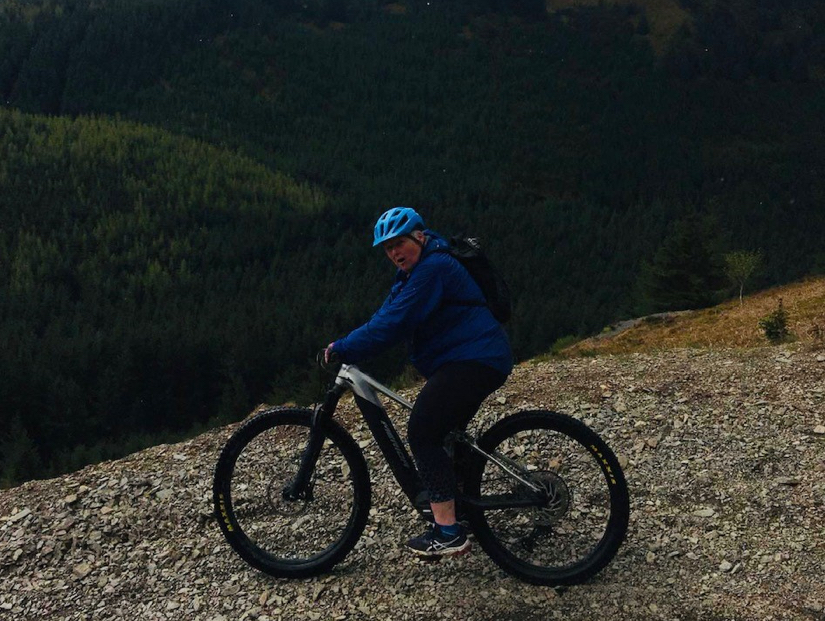 Llinos' Ebike and the Prostate Cancer Fundraiser
Charities have had a really tough time during Covid so we are choosing a few extra to support this next year. The first one popped up on Facebook – Cycle 100 miles in May for Prostate Cancer. Well, it seemed the natural thing to do. I had just bought a new bike. I have a father, two brothers, two sons and a grandson. I also have friends who have fought this disease, so I signed up.
Then I thought, 'I have an ebike'. This seemed a bit easy really and during hard times it was likely to be difficult to raise a decent sum of money. An extra challenge was needed to encourage the donations and hey presto, the birth of the ridiculous idea of cycling an extra mile for every £1 over £300 raised. Three things I didn't consider. It may be an ebike but it still needs propelling. You need time to cover long distances and I have an hour or so each day that I can spend pedalling. The generosity of Dolgellau residents and our customers is and always has been amazing.
I cycled almost every day in all sorts of weather. Took it with me on holidays to the Lake District and bumped around Whinlatter forest trails (falling off more than I care to mention) but the mounting donations were accumulating faster than my not-so-fit legs could pedal. Ex pupils and family members were donating for not so benevolent reasons I suspect and my pride was resulting in a nightly John Wayne walk to a hot bath.
As the final total reached £1073.00, I recognised that there was no way on earth I could complete the extra 773 miles in May – even if I used Dylan's motorbike. But at the time of writing, I have done 264 miles leaving a mere 509 to go. I am setting a target of completing the miles by the end of July now which is still a bit of a task!
It's been a great challenge and there was a marvellous support group on Facebook. Thanks again to all the lovely people who donated towards this deserving charity and got me on my bike again!
Llinos
Emily Smith 14/05/2021