FREE LOCAL DELIVERY OVER £50
01341422870
Mon to Thurs 10am - 5 pm, Fri to Sat 10am - 6pm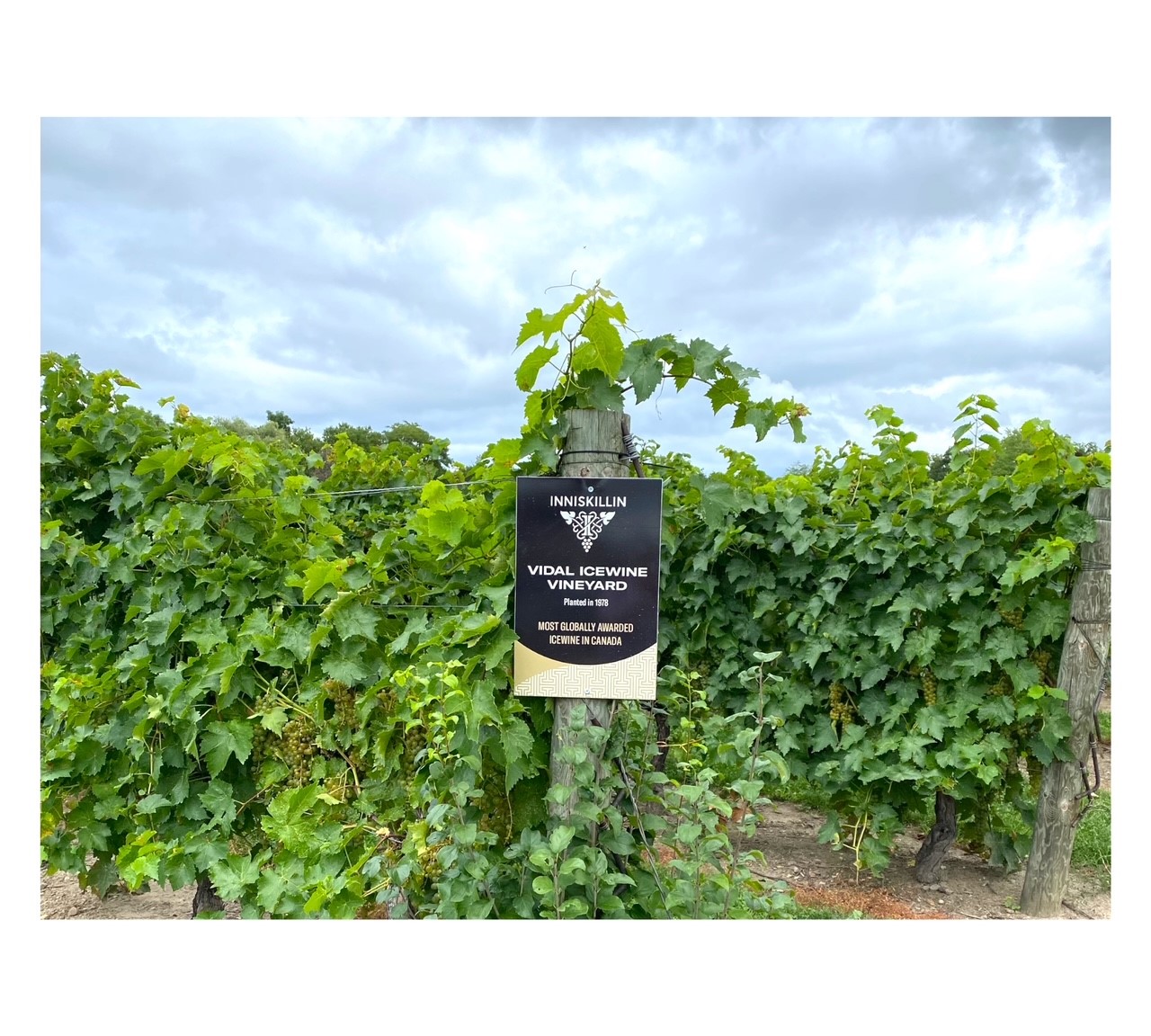 Eiswein in Canada
Exploring the Frozen Elegance of Canadian Eiswein
My first surprise was to see grape vines growing wild. I spotted them immediately as we walked along a local footpath on my first day there. I have never witnessed this before, they twist and turn and bind themselves to the very tops of the trees. Pointing them out to Maggie I said that I had read about how virulently they grow. But this was first hand evidence that I had never seen in Europe. I'm assuming it's the phylloxera resistant American vines that enables this. Nearly all European cultivated vines are grafted to American rootstock to avoid this devastating little bug.
However, they were acidic and sharp to the taste and what I was more interested in was the delicious Eiswein. Canada has established itself as a global leader in producing some of the finest sweet wines. When it comes to Eiswein, Inniskillin stands out as an emblem of excellence. I went with my Canadian relatives to this lovely vineyard to sample some of these delicious dessert wines.
Eiswein: A Natural Wonder
Eiswein is a luxurious dessert wine made from grapes that have naturally frozen on the vine. We used to import our own from K+K in Austria. However, the climate has not permitted its production for a while sadly. I think the last one was 2014. The freezing of the water content in the grape concentrates the sugars and flavours. This result is in a wine of exceptional sweetness and complexity.
Inniskillin: The Canadian Eiswein Trailblazer
Inniskillin Vineyards were founded in 1975 by Donald Ziraldo and Karl Kaiser. They played a pivotal role in establishing Canada's reputation as a producer of world-class ice wines. Located in the heart of the Niagara Peninsula, Inniskillin benefits from a unique terroir that's ideal for Eiswein production. I was curious as to how the up to -30°C winter temperatures didn't kill the vines. However, my cousin Kevin pointed out the great big escarpment rising out of the flat Ontario lands. This, along with the vast bodies of water (Niagara and Lake Ontario) create that essential rise in temperature. Therefore the vines are not killed by hard frost.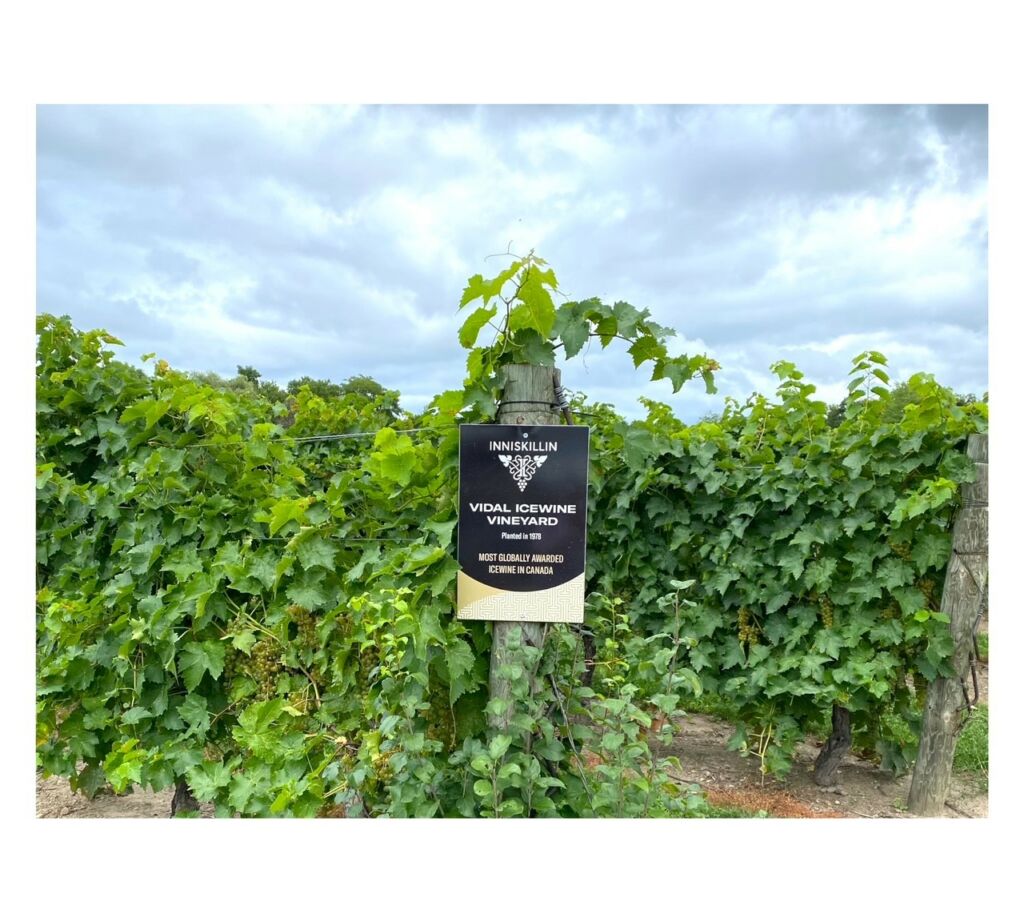 The Harvesting Process
The key to crafting exceptional Eiswein lies in the timing of the harvest. Grapes for ice wine must be picked when the temperature drops to around -8°C (17.6°F) or lower. Typically in the early hours of the morning. This meticulous process requires a dedicated team of vineyard workers who brave the frigid temperatures to hand-pick the frozen grapes.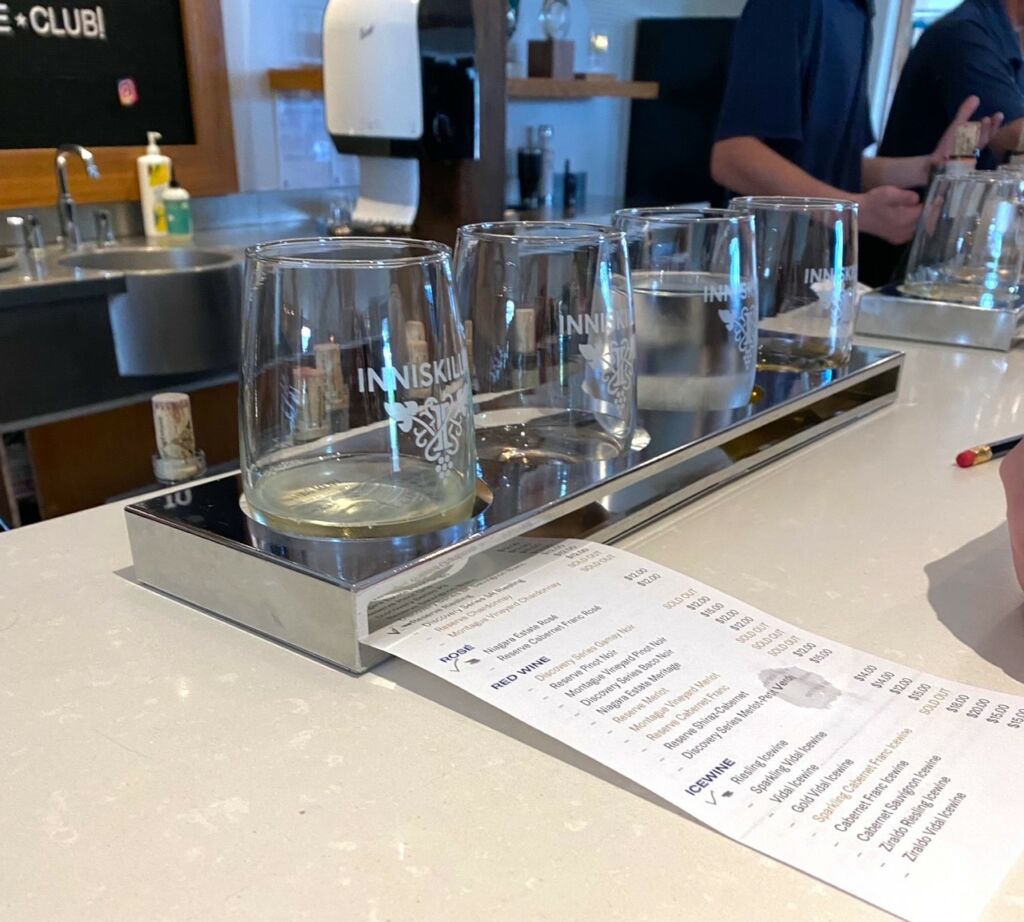 Grape Varieties
Inniskillin specializes in several grape varieties for Eiswein production. Riesling, Vidal (Terri's favourite), and Cabernet Franc are among the most popular. Each grape variety brings its own unique characteristics to the final wine. This results in a diverse portfolio of ice wines to suit different palates. I have of course bought some home for us all to try. So it's a pudding night for the staff soon! Some lovely fruity puddings or delicate sponges will complement them well. Dylan might make his Cointreau ice cream and some creamy blue cheese for the Cabernet Franc – I get so excited!
dylan 28/09/2023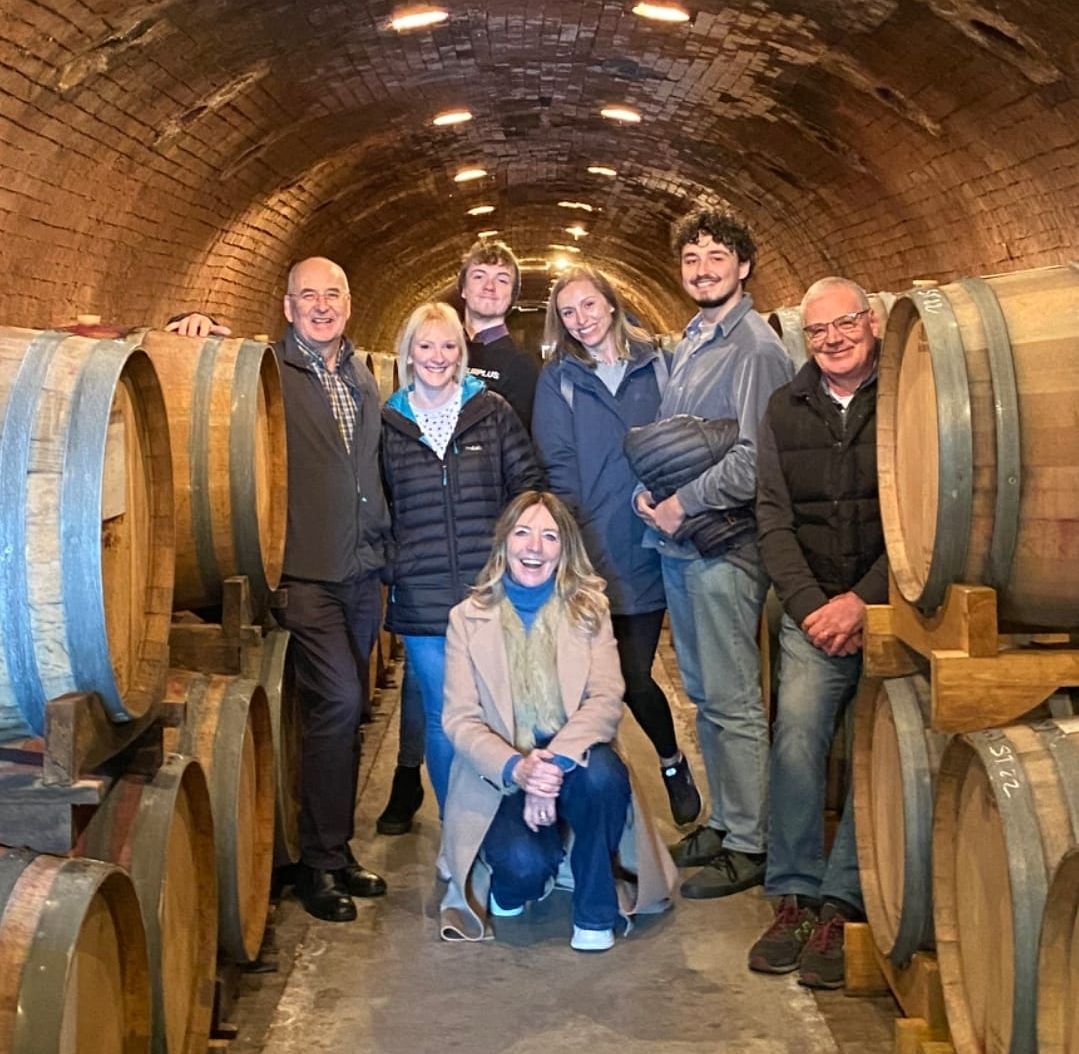 The Italian Tour
The Italian Tour
How exciting it was to set off on our first training trip to some of the vineyards that Gwin Dylanwad Wine import from. The Italian tour promised some serious training and I was looking forward to it. We set off early on Sunday morning and landed in our accommodation at the foothills of the Dolomites late that night.
I know a lot of people are saying it's a cushy number being taken off to visit vineyards but it was actually a lot of travelling. Without fail, every wine maker we visited expressed shock at how far away we were staying (about 45 minutes). It was a lot of driving but the experience of travelling through the Italian countryside was worth it and the views were spectacular. And in Wales, we are used to travelling! It was also a good opportunity for a bit of team bonding.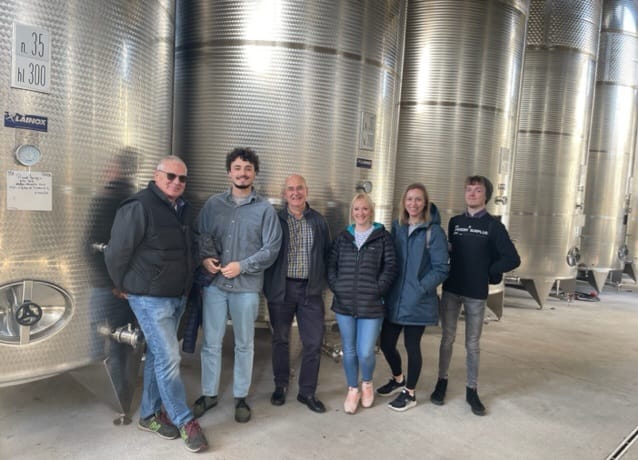 The Italian Tour – Bidoli
Bidoli was a very smart winery. I was very impressed by the quality of the Pinot Grigio. This is the type of wine that I have found bland and uninteresting in the past. Bidoli's was brimming with lovely stone fruits balanced with a good acidity and was very refreshing. It was a prime example of a well-made easy drinking wine.
I was struck by the welcoming and kind hosts of these vineyards who were so passionate about their company. Even if they didn't own it, they were so enthusiastic about showcasing their product to the world – even a tiny company from Wales. As a result, we were wined and dined quite lavishly! Excellent food coupled with lots to drink and an absolute overload of education!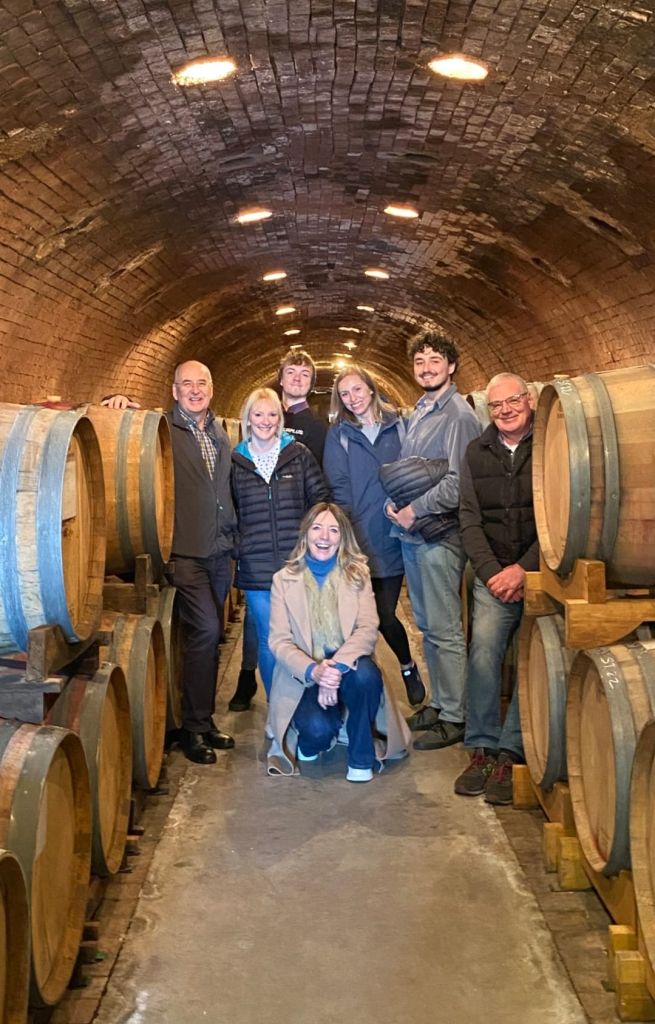 Perlage Winery
I really appreciated the organic practices of Perlage, especially while growing their grapes in Valdobbiadene for their Prosecco Canah. They use local compost and no pesticides. The steep slopes in this area are very impressive and are key to the production of top Prosecco. It was very interesting to be able to work through the 3 stages of the Canah. So we were able to taste the juice of the grapes before fermenting from one tank, then the wine after the first fermentation and the final product.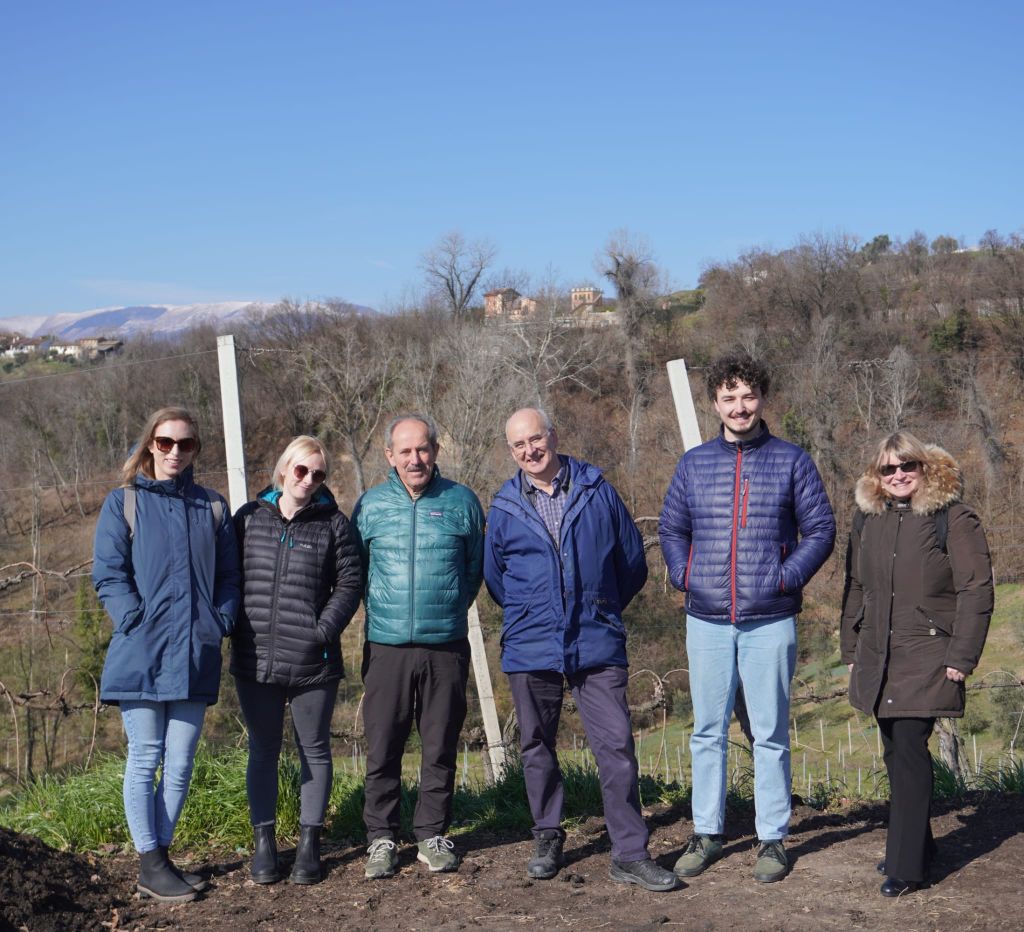 Special Italian Imports
So why not give these delicious wines a try? Have a look at Perlage on our website or Bidoli. I think the Perlage Sangiovese is a lovely smooth easy drinker and the Bidoli Pinot Grigio delle Venezie will change your mind if you think all Pinot Grigio is bland! Enjoy!
Osian
dylan 21/04/2023